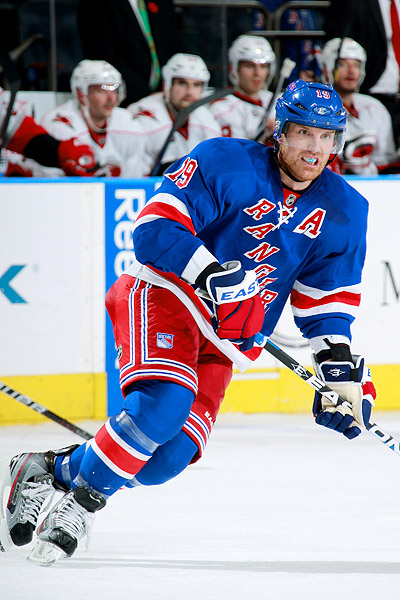 The New York Rangers open up their Eastern Conference Semi-Final battle with the Boston Bruins tonight at the Boston Garden. This matchup will be a completely different series than the NYR/WAS series was mainly because unlike Washington who was a high scoring offense Boston is more of a grinding/defensive team just like the Rangers. This series should be very close with the games likely ending in 1-0 or 2-1 scores thus if the Rangers can accomplish these 4 Factors through the series they should advance to the Eastern Conference Finals for the second year in a row.
1) Brad Richards NEEDS to play like a first line center- When the Rangers signed Brad Richards last season it was believed that he would be their top center and the leader on the powerplay. Last year he was that and more for the Rangers, however this year has shown to be Brad Richards worst year with John Tortorella moving him all the way down to the fourth line during the Washington series. Richards has also not been able to lead the powerplay unit, for the Rangers to be successful against Boston they will have to get Brad Richards back to his old form to help Nash and Callahan on the first line and leading the powerplay.
2) Rick Nash NEEDS to score- Rick Nash proved to be a smart trade during the regular season leading the team in goals (21) and his puck handling and speed caused him to shred through defense's. However so far in the playoffs Nash has looked flat. With this most likely to be a defensive series the Rangers are going to need their top sniper to score for them.
3) Ryan McDonagh and Dan Girardi Must Lead the Defense- With Marc Stall likely to be out for a big portion of this series the Rangers will need Girardi and McDonagh to lead the defense. Both had very strong performances through the Washington series and with this expected to be a defesnive series the Rangers top 2 defense players will need to make sure the Bruins offense is uncomfortable throughout the whole series.
4) Henrik Lundqvist Will Need to Remain Unbeatable- Henrik Lundqvist is arguably the main reason why the Rangers are still playing hockey and for them to go back to the Eastern Conference Finals they will need him to be just as good as he was against Washington. With Boston not having a mega star like Alex Ovechkin on the offense this could be a easier series for Lundqvist on top of that he went 2-1 against Boston and has tended to play very well at the Boston Garden throughout his career. For the Rangers to continue on their top player will need to remain unbeatable in front of the goal.