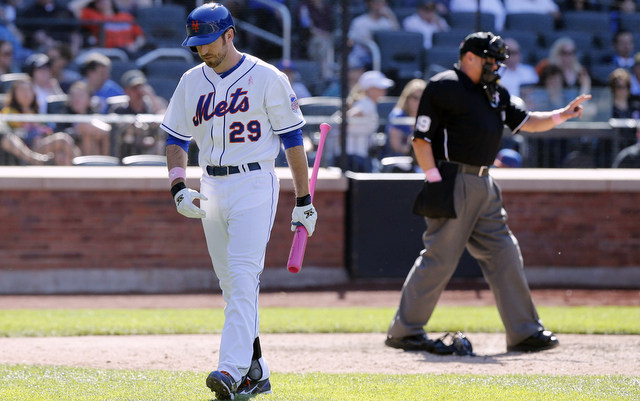 Credit: CBS Sports
It has been well documented that Ike Davis has struggled mightily to start the season. Most fans, as well as reports are calling for the Mets to send Davis to AAA Las Vegas to figure what is wrong with him offensively. The problem is, the Mets have no viable options to replace Davis at first.
Looking at the big league roster, the Mets have Lucas Duda, Mike Baxter (1 game), Justin Turner and Daniel Murphy who all have played first at one time in their career. None of these options are great defensive options nor provide the pop that Davis could provide once he figures it out.
The problem with moving Duda or Murphy over to first is now the Mets are forced to find a replacement for them. Moving Duda is more logical as the Mets could recall Collin Cowgill or Kirk Nieuwenhuis the play left. Both are defensive upgrades over Duda, however both have failed to produce in the big leagues this year. So if it offensive everyone is screaming for, none of the big league options are any better.
Moving Murphy leaves the Mets in a similar situation. The Mets have Justin Turner and Jordany Valdespin could play second that are on the current roster. The minor league options are a little more intriguing. Former top propect Wilmer Flores is hitting .283/.330/.455 with 4 HRs in AAA and has 4 errors in 162 chances at second this year. They could also call up former 2008 first rounder pick Reese Havens. Havens has a trouble staying healthy and is only hitting .237/.314/.323. If they Mets so decide to move Murphy over they are making major sacrifices on defense, something the Mets have been trying to preach all season.
In the minors the Mets are super thin at the first base position, they have Eric Campbell and Josh Stain listed on their AAA roster. Both are not very good options defensively or offensively. Very few players make the quantum leap from AA for the big leagues. Allan Dykstra is mashing at a .298/.440/.519 clip but he is 26 years old which is considered old for AA. So if the Mets were to call up someone to play first Dykstra would be the most worthy choice.
The Free Agent market does have some interesting names such as Carlos Lee and Jim Thome, but who knows if those two are even capable of playing first base at this point. However both provide the offense the Mets are desperately seeking.
Withall of the possible options listed above the Mets replacements for Davis are cannot provide the defense Davis already does nor could they match the potential offense Davis could provide if he learns to hit again.