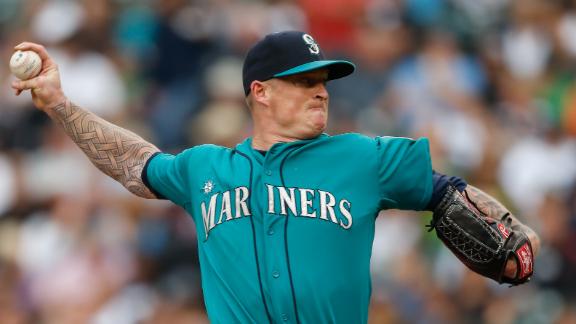 espn.com
By Nick Ziegler (@Ziggy26x)
June 7th, 2013
New York Yankees vs Seattle Mariners Post Game Recap
Final Score: Yankees 1 Mariners 4
In what looked like a sure thing for the New York Yankees on paper they were unable to beat Jeremy Bonderman and the Seattle Mariners, and they had their winning streak snapped at four. The loss moves the Yankees to two games behind the Boston Red Sox in the AL East.
Bonderman got the start again for Seattle after getting rocked in his first appearance of the season, but on Friday night Bonderman looked the best he has in years earning his first victory since 2010. The Yankees got on the board in the first inning against Bonderman with a Travis Hafner RBI ground out, but that would be all they could get off Bonderman. Bonderman would end up going six innings allowing just one run on three hits, and two walks. Letting Bonderman shut them down has to be disappointing for the Yankees lineup, who should have been able to get more than one run off of him.
Yankees Starter Hiroki Kuroda did not have a very good start on Friday, and got his fifth loss of the season because of it. The loss to the Mariners means that Kuroda has not one a game since May 17th, and has lost three of his last four starts. The fourth inning was where the Mariners got to Kuroda, with a two-out rally, as with the bases loaded Brendan Ryan got the Mariners on the board with base hit scoring Michael Morse and Nick Franklin. After the bases were reloaded with a infield single by Endy Chavez, Jason Bay knocked in two more with a single. The four-run two-out rally was the difference maker in this game, and turned out to seal the Yankees fate.
The Mariners bullpen was very solid after the nice start from Bonderman, as they finished up the final three innings of the game, while only allowing one hit and one walk. Tom Wilhelmsen picked up his 15th save of the season to finish up a good game of pitching from Seattle.
Next up for the Yankees will be an afternoon game on Saturday against the Mariners, as Andy Pettitte (4-3, 4.17) will be facing Joe Saunders (4-5, 5.20).