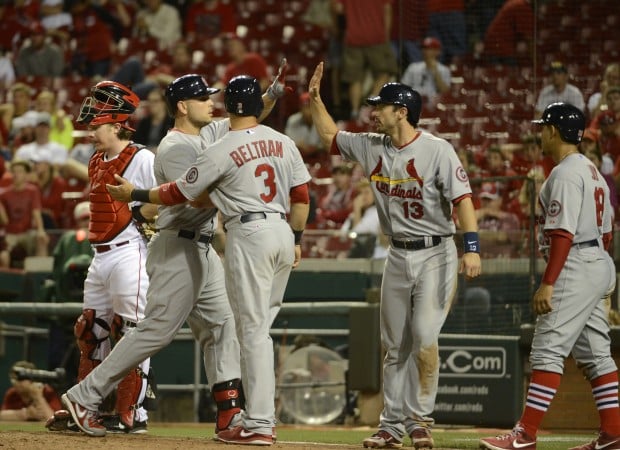 stltoday.com
By Nick Ziegler (@Ziggy26x)
MLB Power Rankings: Week 10
1.) St Louis Cardinals (41-22) – The Cardinals are once again in the top spot in the Power Rankings, as they just keep on winning, and are now 19 games over .500. A series win on the road against the Reds this weekend was huge for St Louis solidify their top spot in the Power Rankings.
2.) Atlanta Braves (39-24) – The Braves have opened up a nice lead already in the NL East despite having three everyday starters batting .200 or less, which makes the fact that the Braves are 15 games over .500 in more impressive.
3.) Boston Red Sox (39-25) – The Red Sox weren't picked by many people to have as good a season as they are having, but the have the best record in the AL, and have the lead in one of the toughest divisions in baseball, as this Red Sox team is showing that they are legit.
4.) New York Yankees (37-26) – A sweep at home of the Indians and then taking three out of four against the Mariners to start their West Coast trip has to have the injured Yankees feeling good. Long time Yankee Andy Pettitte also reached the 250 win milestone this week.
5.) Texas Rangers (37-25) – A bit of a tough week on the East Coast has slimmed the Rangers lead the in AL West down a bit, as they lost four out of six to the Blue Jays and Red Sox this past week. Yu Darvish is still dealing, and heading back to Texas should get the Rangers on track.
6.) Oakland Athletics (38-27) – Bartolo Colon has been great of late leading the Athletics rotation, which is starting to get hot. Colon now has seven wins this season, and his only given up six runs in his last five starts, which is remarkable.
7.) Cincinnati Reds (37-26) – The Reds bullpen has cost them a lot of games already this season, and their last home-stand was when they may have been at their worst this season allowing 23 runs in those games.
8.) Pittsburgh Pirates (37-26) – Starling Marte has really struggled of late, and sweep to the Braves didn't help the Pirates gain ground in the NL Central this week. Gerrit Cole is going to making his debut soon, which should help a rotation that has been banged up lately.
9.) Detroit Tigers (35-26) – Justin Verlander has eight wins, but is fourth on the Tigers rotation in ERA at 3.71, which isn't what people are use to seeing from Verlander. Austin Jackson is making a rehab start on Monday, so expect him to be back in the powerful Tigers lineup very soon.
10.) Baltimore Orioles (35-28) – Starting Pitching has been an issue for the Orioles so far this season, but their good offense led by Chris Davis is still winning games for the Orioles. Wei-Yin Chen is getting healthier and will be a welcomed sight back in the rotation.
11.) Arizona Diamondbacks (35-28) – Patrick Corban is still dealing for the Diamondbacks with nine wins and an ERA under two, but Wade Miley has really struggled lately, as he is now (4-5) with an ERA closing in on five.
12.) Tampa Bay Rays (34-28) – Matt Moore has struggled in his last two starts allowing 15 runs in those two appearances, which has to be a little concerning for the Rays. David Price is due back towards the end of the month, as the Rays look to keeping playing well without their ace.
13.) San Francisco Giants (33-29) – The Giants only had five games this week, but did go (3-2), as they continue to hope that their pitchers will figure things out and get back on track. The offense has still been very good with five starters hitting .285 or higher.
14.) Colorado Rockies (34-30) – A powerful offense for the Rockies has kept the over .500 still this season, and they used their bats to get a nice series win to start the week on the road in Cincinnati. Troy Tulowitzki is having an MVP type season hitting .354 with 16 homeruns and 51 RBIs.
15.) Washington Nationals (31-31) – Washington is trying to tread water with their two young phenoms on the DL in Bryce Harper and Stephen Strasburg. A trip to Colorado to start the week may spark an offense that has been showing signs of coming alive finally.
16.) Philadelphia Phillies (31-33) – For whatever reason the Phillies seem to have a problem beating the Brewers, and after making it over .500 in the middle of the week, three straight losses to Milwaukee put them right back under .500.
17.) Kansas City Royals (28-32) – The Royals pitching is finally getting some help from their lineup, which has resulted in the Royals going on a five-game winning streak. A big series to start the week against the Tigers can really help or hurt the surging Royals.
18.) San Diego Padres (29-34) – The Padres may have had a losing week, but they are getting great play from rookie Jedd Gyorko at Second base, as he is hitting .284 with a team-leading eight homeruns to go along with 25 RBIs.
19.) Cleveland Indians (30-32) – The Indians are free falling right now losing seven straight games, and injuries to Chris Perez and Asdrubal Cabrera wont help them win games. Next week the Indians start with a series against the Rangers, which may make the losing streak even worse.
20.) Minnesota Twins (27-33) – Minnesota doesn't seem to have a whole lot going for them right now a (2-4) week was capped off with losing both games to the Nationals in their double-header on Sunday.
21.) Los Angeles Dodgers (27-35) – Yasiel Puig's first week in the majors was a memorable one, as the young Outfielder has sparked the Dodgers. Puig is hitting .464 with four homeruns and 10 RBIs in his first seven games.
22.) Toronto Blue Jays (27-35) – Things might be on the up for the Blue Jays, as their pitching was very good this week, as they got good starts from R.A. Dickey and Mark Buehrle. A nice series win a home against the Rangers is a start in the right direction for Toronto.
23.) Chicago White Sox (27-34) – The White Sox are the second worst team in baseball in scoring runs, and that in large part is due to the struggles on Paul Konerko, who is having a bad year in the middle of the lineup. Konerko is hitting just .235 with six homeruns and 23 RBIs.
24.) Los Angeles Angels (27-36) – Huge week is coming up for the Angels with series against the Orioles and Yankees. If the Angels want to make the playoffs they need to start winning games against teams ahead of them in the standings, and really just games against anyone.
25.) Seattle Mariners (27-37) – Seattle's offense continues to struggle and spoil good starts from Felix Hernandez and Hisashi Iwakuma. Poor pitching from the other three Starters and poor hitting has led to the Mariners being 10 games under .500
26.) Milwaukee Brewers (25-37) – Brewers pitching showed up on the weekend against the Phillies, which resulted in them taking three out of four in their weekend series. Kyle Lohse had one of his best starts of the year on Sunday in earning his second win, something the Brewers need him to keep up.
27.) Chicago Cubs (25-35) – Cubs star Shortstop Starlin Castro is still having a bad season, which is really hurting the Cubs offense right now. Castro is only hitting .243 with three homeruns and 21 RBIs, numbers which are way down for him.
28.) Houston Astros (22-42) – After an impressive week last week by the Astros the Royals gave them a reality check on the weekend holding them to just four runs in three games, which resulted in the Astros being swept.
29.) Miami Marlins (18-44) – Marcell Ozuna is an exciting young player to watch, as he had a huge throw getting Daniel Murphy out at the plate in the 20-inning game against the Mets on Saturday, and he is also hitting very well batting .331 this season.
30.) New York Mets (23-35) – The Mets have lost five straight games to the Marlins now who certainly have their number. Ike Davis struggles have finally gotten him sent down to the minors, but there is now viable option to replace him at First Base.