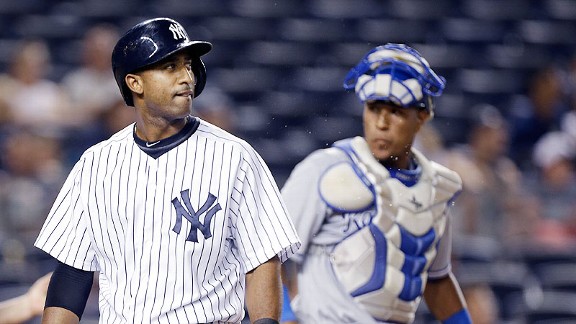 espn.com
By Nick Ziegler (@Ziggy26x)
July 8th, 2013
Kansas City Royals vs New York Yankees Post Game Recap
Final Score: Royals 5 Yankees 1
The New York Yankees lost their second straight home game this time to the Kansas City Royals who started out the four-game series in the Bronx on a positive note winning 5-1 on Monday night. The loss moves the Yankees to (48-41) on the season, which is five games back of the Boston Red Sox for first place in the AL East.
Kansas City struck first in this game, as they got to Yankees Starter Phil Hughes in the second inning for two runs. Billy Butler got them going with a solo-home run, which was his seventh of the season. David Lough would then double home Mike Moustakas for the Royals second run of the inning. Hughes picked up his eighth loss of the season, and only went four innings due to a hour rain delay.
Adam Warren came in after the rain delay for Hughes, and pitched pretty well going 3.2 innings allowing just one run on three hits and two walks. The seventh inning was when the Royals got to Warren for the one run, as Johnny Giavotella hit a double to score Moustakas.
The Royals got a very good start from Jeremy Guthrie, who earned his eighth win of the season by going 6.2 innings allowing just one run on six hits and one walk. The only run off Guthrie came in the seventh inning, when Joe Girardi went to Lyle Overbay to pinch hit for Travis Ishikawa, and Overbay made Girardi look smart by hitting his 10th home run of the season, which ended up being the only Yankee run.
In the ninth inning with the game still very much in reach Preston Claiborne let the Royals tack on some insurance runs. Alex Gordon made it a 4-1 game with a double that scored Lough, and then Alcides Escobar tripled home Gordon. For Claiborne he went 1.1 innings allowing two runs on three hits and a walk.
The Yankees were able to load the bases in the bottom half of the ninth inning off Luke Hochevar and Greg Holland, but Holland then struck out Eduardo Nunez, Brett Gardner, and Zoilo Almonte to end the game and earn his 21st save of the season.
Game 2 of the four-game series will have a good pitching match-up, as C.C. Sabathia (9-6, 4.06) will be facing James Shields (3-6, 3.23).