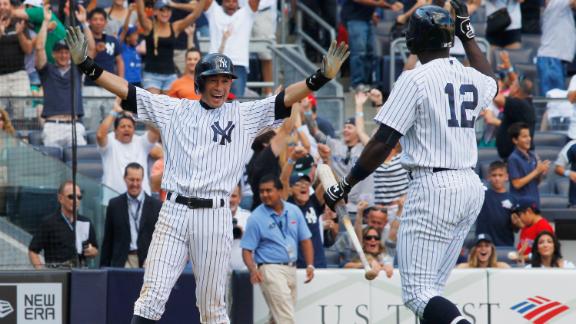 espn.go.com
By Nick Ziegler (@Ziggy26x)
September 8th, 2013
Boston Red Sox vs New York Yankees Post Game Recap
Final Score: Red Sox 3 Yankees 4
The New York Yankees were able to avoid the sweep at home against the Boston Red Sox on Sunday afternoon, which would've been a heart-breaking weekend for the Bronx Bombers. The win moves the Yankees to (76-67), which is 2.5 games behind the Tampa Bay Rays for the final Wild Card spot.
Hiroki Kuroda looked like he was back to his form of about a month ago on Sunday, as he gave the Yankees a very good start in a game they desperately needed. The Red Sox would get a couple runs off of Kuroda however though, as in the second inning Mike Carp hit a double to score David Ortiz for the first run of the game. In the sixth inning the Red Sox would get their final run off of Kuroda, as Jarrod Saltalamacchia would hit a sac-fly to score Ortiz. Kuroda would go six innings allowing just two runs on five hits and two walks, while striking out six batters, and leaving the game in line for a win.
Jon Lester also put together a very good start for the Red Sox in this game but like Kuroda only go a no decision. In the fourth inning Mark Reynolds got the Yankees on the board with a double that scored Alex Rodriguez. In the fifth inning Robinson Cano would come thru in the clutch with a two-out, two-run double with the bases loaded that scored Chris Stewart and Ichiro Suzuki. Lester would finish going eight innings allowing three runs on 10 hits, one walk, while striking out six batters.
Asked to get the six-out save, Mariano Rivera pitched a scoreless eighth inning, but in the ninth, Will Middlebrooks was able to hit a solo-home run, which was his 15th of the year, and tied up the game at three. For Rivera it was his seven blown save of the season, but with the Yankees scoring in the ninth inning he earned his 5th win of the season.
The Yankees caught a bit of a break in the ninth inning, as Ichiro Suzuki did an excellent job running the bases after his single off Brandon Workman. Ichiro stole second and then made it to third on a fly out by Vernon Wells, and then a wild pitch by Workman allowed Ichiro to score the game-winning run.
Next up for the Yankees will be a huge four-game series against the Baltimore Orioles, who are above them in the Wild Card standings, as in Game 1 C.C. Sabathia (13-11, 4.86) will be facing Chris Tillman (15-5, 3.71).