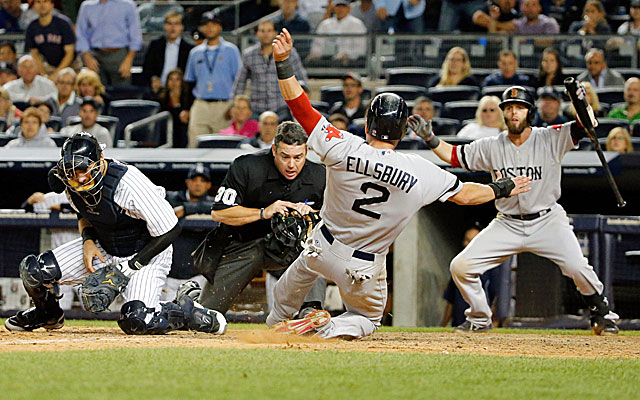 cbssports.com
By Nick Ziegler (@Ziggy26x)
September 5th, 2013
Boston Red Sox vs New York Yankees Post Game Recap
Final Score: Red Sox 9 Yankees 8
The New York Yankees were unable to start their series off against the Boston Red Sox on a good note, as they lost in extra-innings. The loss moves the Yankees to (75-65), but with the Tampa Bay Rays losing as well, the Yankees stayed 2.5 games behind them in the Wild Card standings.
Ivan Nova, who was coming off a complete game shutout,but wasn't very sharp in this game. In the third inning the Red Sox would piece together a few hits, as Jacoby Ellsbury hit a double that scored Ryan Lavarnway, and then Shane Victorino had a RBI ground out that scored Will Middlebrooks. Middlebrooks in the fourth inning would hit a solo-home run off Nova, which was his 13th home run of the season. Nova went just four innings allowing three runs on five hits, and two walks on 96 pitches.
Red Sox Starter Jake Peavy also wasn't up to his normal game, but he did pitch better than Nova, and lasted a bit longer. The Yankees would get to Peavy in the third inning, as Robinson Cano doubled home Ichiro Suzuki and Brett Gardner with the bases loaded. After allowing two base-runners in the seventh inning Peavy was pulled for Matt Thornton, who allowed both of the runners Peavy left him with to score. Peavy's final line was six innings of work allowing four runs on six hits and three walks.
The seventh inning was a good one for the Yankees, as after they got Peavy out of the game they tack on some more runs against Thornton and Junichi Tazawa. The six-run seventh inning would actually get the Yankees the lead after Preston Claiborne had a disastrous fifth inning allowing three runs to score.
With Mariano Rivera on the mound in the ninth inning Yankees fans had to feel good about what looked like it was going to be a great come from behind win against their biggest rival. Sadly for Rivera and the Yankees he was let down a bit by his Catcher Austin Romine who had a throwing error trying to get pinch-runner Quintin Berry out on a stolen base attempt. With Berry on third Stephen Drew came thru against Rivera with a base-hit that tied the game up at 8, and handed Rivera his sixth blown save of the season.
The 10th inning was a tough one to watch for the Yankees with Joba Chamberlain on the mound, as after a single by Ellsbury, who then stole Second Base, Shane Victorino was able to make the most of the break given to him by umpire Joe West, who should have punched him out on strikes on a check swing, but Victorino singled home Ellsbury to give the Red Sox the lead. The throw by Ichiro to Home Plate was a good one and might have had Ellsbury if it would have been properly handled by Romine, who had a rough game.
Next up for the Yankees they will look to bounce back from the tough loss on Thursday night, as on Friday Andy Pettitte (10-9, 4.01) will be facing Felix Doubront (10-6, 3.89).