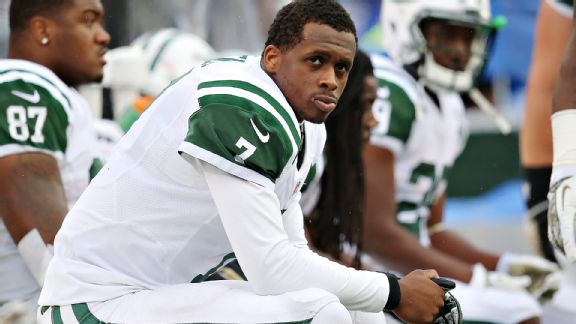 espn.com
By Nick Ziegler (@Ziggy26x)
Week 11: New York Jets Team Grades
November 17th, 2013
Final Score: Jets 14 Bills 37
The New York Jets coming off a great win against the New Orleans Saints and a bye week headed up to Buffalo with a chance to separate themselves a bit in the Wilda Card standings, but laid a egg. The loss moves the Jets to (5-5) on the season, and (1-4) on the road now, but if the season ended today they would still have the sixth spot in the AFC Playoffs.
Passing Offense Grade (F)
The Jets passing offense was a total disaster on Sunday, as basically nothing went right. Geno Smith had a disaster of a game throwing for just 103 yards on eight for 23 passing with no touchdowns. The turnovers from Smith really did the Jets in during the game, as he lost one fumble, threw three interceptions, one of which was a pick six to Da'Norris Searcy, and the other two were to Jairus Byrd. The Offensive Line didn't do a very good job protecting Smith either, as they allowed four sacks, two of which were from Kyle Williams. One good thing for the passing offense was that they got some weapons back for the playoff push, as Santonio Holmes, Kellen Winslow, and Jeff Cumberland were all back in the lineup. Matt Simms got some playing time late in the game and looked good in junk time throwing for 60 yards on four for six passing with a touchdown pass to Cumberland.
Rushing Offense Grade (A)
The ground game was once again good for the Jets, as Chris Ivory has really emerged as the number one back for this team. Ivory ran it 15 times for 98 yards and a touchdown, with one big 69-yard run, which turned his stat line into a very nice one. Bilal Powell also was good in his limited carries, as he had 27 yards on five carries. Unfortunately for the Jets being down by 20 at halftime it made it hard to stick with the ground game in the second half.
Passing Defense Grade (D)
Without his number one Wide Receiver Stevie Johnson, E.J. Manuel looked very good in the win on Sunday, as he outplayed Smith by a large margin. Manuel finished throwing for 245 yards on 20 for 28 passing with two touchdowns. Marquise Goodwin and T.J. Graham were his main targets, as they each caught a touchdown pass. Goodwin had the best day of any Receiver, as he caught six passes for 81 yards, but Graham was close behind with 74 yards on two catches. Bills Offensive Line did a good job protecting Manuel too, as the mobile Quarterback only was sacked once by Calvin Pace.
Rushing Defense Grade (A+)
The Jets passing defense may have struggled in this game, but their rushing defense continued to be very good, and shutdown the Bills running game. Fred Jackson was the Bill leading rusher with 34 yards on 12 carries, and was unable to break a run for more than seven yards. The other part of the Bills Running Back duo, C.J. Spiller fared even worse against the Jets run D, as he had only six yards on 13 carries. The Jets rushing defense also did a good job not allowing E.J. Manuel to hurt them on the ground, as Manuel only had nine yards on seven carries.
On Special Teams it was a relatively quiet day for the Jets and the Bills with not a whole lot happening, the biggest play on special teams came on a Brian Moorman fumble that wasn't lost, but was a turnover on downs. Jets Kicker Nick Folk also lost his perfect season in the windy conditions of Ralph Wilson Stadium, as he missed a 48-yard kick in the first quarter, and is now 23-24 on the season. Josh Cribbs did a fine job on his returns, as he had a nice 16-yard punt return to go along with a 35-yard kick return, which was the longest of his five kickoff returns.
Coming off a bye week the Jets were totally embarrassed by the Bills, as a 23 point loss when a team is in the playoff hunt is not good and part of that has to go on the coaching staff. One good thing was that the Jets only had four penalties the second time playing Buffalo compared to the 19 they had in their win earlier in the season. With a playoff spot on the line Rex Ryan has to get the Jets to bounce back against his former team the Baltimore Ravens, and not have another let down like what happened against the Bills.