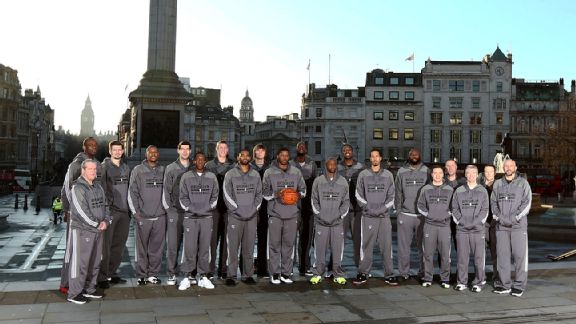 espn.go.com
By Nick Ziegler (@Ziggy26x)
January 16th, 2014
Brooklyn Nets vs. Atlanta Hawks
Final Score: Nets 127 Hawks 110
The Brooklyn Nets were able to pickup a nice win over the Atlanta Hawks on Thursday afternoon in London, as 2014 continues to be very good for the Nets. The win moves the Nets to (16-22) on the season, and they continue to gain ground in the Atlantic Division, as they are now just 3.5 games behind the Toronto Raptors.
Positives-
After spending about 10 thousand dollars in a London club Monday night, Joe Johnson played like a million bucks on Thursday afternoon. Johnson started the game with a 15-point first quarter, and never looked back after his hot start. Johnson finished with a game-high 29 points on 11 for 15 shooting, which included him going six for eight from three-point land. He only had three points in the second half, as the Hawks started to double-team him, but Johnson adjusted making some nice passes, which led to him having five assists.
The main beneficiary of the double-teaming of Joe Johnson was Alan Anderson. Anderson found his groove with a few wide open looks, and finished with 15 points on five for nine shooting. He was great from behind the three-point line going four for six from deep.
Paul Pierce and Kevin Garnett both also had good games providing scoring help for Johnson. Pierce scored 18 points on eight for 16 shooting with six assists and Garnett scored 12 points on six for eight shooting in just 18 minutes, as Jason Kidd was able to rest Garnett a lot in the blowout.
Off the bench the Nets got a great game from Andray Blatche, who had his best game of the season so far. Blatche scored 20 points on 10 for 18 shooting to go along with a game-high 14 rebounds and six assists.
On defense the Nets did a great job once again of stopping the Hawks three main guys, as Paul Millsap, Jeff Teague, and Kyle Korver all had bad games. Millsap only scored 13 points on five for 14 shooting with just three rebounds. Teague scored the most points in the starting lineup with his 16, but he also struggled shooting the ball going four for 13. Korver had a rare off night scoring just three points on one for nine shooting, but he was able to keep his consecutive game streak with a three-point alive.
The Nets will be heading back to the United States on Friday morning before a Monday afternoon game against the New York Knicks.