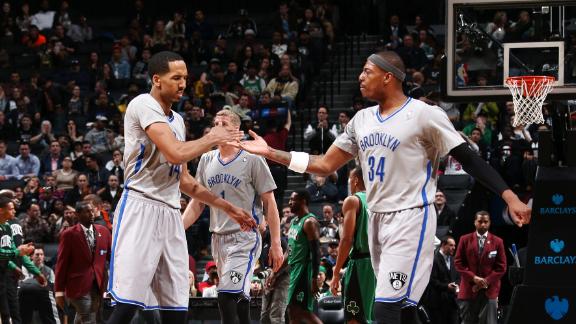 espn.go.com
By Nick Ziegler (@Ziggy26x)
March 21st, 2014
Boston Celtics vs. Brooklyn Nets Post Game Recap
Final Score: Celtics 98 Nets 114
The Brooklyn Nets sporting their nice alternative blue and grey jerseys were able to pick up their 11th straight victory at the Barclays Center on Friday night against the Boston Celtics. The win moves the Nets to just 1.5 games behind the Toronto Raptors with a (36-31) record, as the Oklahoma City Thunder helped the Nets out by beating the Raptors in double overtime behind 51 points from Kevin Durant.
Player of the Game: Joe Johnson
In the blowout win for the Nets their starters didn't have to play much, but when Joe Johnson was on the court he was on fire. Johnson played the most of any starter, playing 30 minutes, which led to him having a team-high 27 points on 10 for 16 shooting, including going an outstanding six of eight from three-point range. Johnson added four assists and two rebounds to go along with his big scoring performance.
Positives:
In the absence of Kevin Garnett, Mason Plumlee has really come into his own in the starting lineup, as that was shown on Friday night. Plumlee scored 18 points on six for seven shooting, and went a perfect six for six from the free throw line. He would also add five rebounds, three assists, and three steals to round out a nice game.
Former Celtic Paul Pierce was finally able to put together a good game against his former team. Pierce didn't have to play much, but in 19 minutes he was able to score 14 points on six of 10 shooting, which is so much better than his previous three games against the Celtics this season.
Brooklyn's bench got a lot of work in the game, and nobody shined more off the bench then Jorge Gutierrez. Gutierrez, who normal doesn't see much court time, was the only Net in double figures off the bench, as he scored 10 points on five for six shooting with three rebounds. The 10 points for him is a new season-high, his previous best was seven points, also against the Celtics.
Negatives:
The only bad thing for the Nets in this game was that Celtics Guard Avery Bradley scored an uncommon amount of points. Bradley scored a game-high 28 points on 12 for 19 shooting, including going four of nine from deep. Most of Bradley's damage came in the second quarter, as he scored 18 of his 28 points.
Next up for the Nets will be a very difficult test on the road as they head to Dallas to play the Mavericks on Sunday night.