By Nick Ziegler (@Ziggy26x)
New York Yankees vs. Tampa Bay Rays Series Recap
April 17th: Yankees 10 Rays 2;
Click here for Game 1 Recap
April 18th: Yankees 5 Rays 11;
Click here for Game 2 Recap
April 19th: Yankees 1 Rays 16
April 20th: Yankees 5 Rays 1
The New York Yankees were able to head down to Tampa Bay in a four-game series against the Rays, and leave with a split despite giving up double-digit runs in two of the games. They will are now (11-8) on the season, which is good enough to be on top of the AL East.
Positives:
In two of the four games the Yankees got really good starts from their Starting Pitchers, as C.C Sabathia and Vidal Nuno both turned in good outings. In Sabathia's start the Yankees were able to grab the victory for him, which was his second of the season after seven strong innings allowing just two runs, only one of which was earned. Nuno didn't have the same luck, as he left the game after five shutout innings, but had the bullpen blow the one-run lead he left with in the seventh inning.
Alfonso Soriano was the Yankees best hitter in the four games against the Rays, as he went seven for 16 at plate with one homerun, three RBIs, four runs scored, and two runs scored.
On Sunday the Yankees got to see the return of Mark Teixeira, who has missed most of the season, but was able to rejoin the team and have a pretty good first game back, which is important for a weak Yankees infield. Teixeira went two for six in the 12 inning game on Sunday.
Negatives: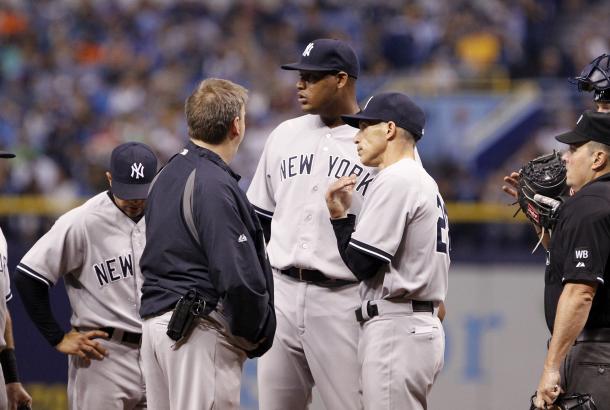 bleacherreport.com
In the Yankees rough loss on Saturday against the Rays they may have suffered a major blow to the starting rotation, as Ivan Nova left the game in the fifth inning with pain in the elbow, and placed on the disabled list very quickly after. The MRI after the game showed that Nova had a partially torn UCL, which usually requires Tommy John surgery. The typical recover time for such a procedure is 12-18 months. Nova will be looked at again in New York, but it certainly doesn't look good for the Yankees young Starter.