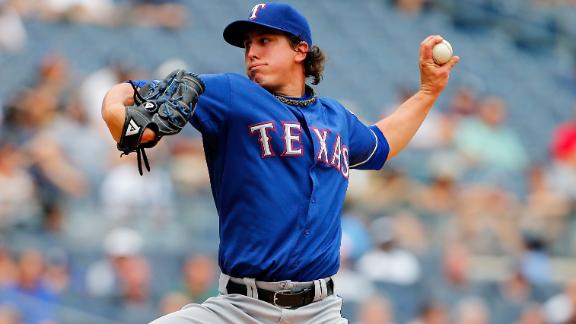 espn.com
By Nick Ziegler (@Ziggy26x)
June 27th, 2013
Texas Rangers vs New York Yankees Post Game Recap
Final Score: Rangers 2 Yankees 0
The New York Yankees finished up their series with the Texas Rangers in very disappointing fashion, as they were shutout by the Rangers in the rubber game of the series. The loss moves the Yankees to (42-36) on the season, and are now in third place in the AL East four games behind the Boston Red Sox.
Phil Hughes was figured to be pitching for his spot in the rotation in this game, and actually came thru with a really solid start, but with zero run support he picked up his seventh loss of the season. Hughes went eight innings allowing just two runs on five hits, one walk, and he struck out five batters. The Rangers first run off Hughes came in the third inning, as Ian Kinsler hit a sac-fly to Left Field which scored Jurickson Profar. Profar would also score the second run of the game in the fifth inning, as he hit a solo-home run, for his third of the year off Hughes.
Despite Hughes pitching very well Derek Holland pitched even better, earning his sixth win of the season, and his first ever in Yankees Stadium. Holland pitched a complete game shutout allowing only two hits, two walks, and struckout seven batters on just 91 pitches. The only Yankees to get hits off Holland were Ichiro Suzuki, and Austin Romine. Jayson Nix was the only Yankee to get to Second Base in this game after a walk, and then a stolen base.
Next up for the Yankees will be a three-game series in Baltimore against the Orioles, who are a half a game ahead of them in the AL East right now. The pitcher for Game 1 will be David Phelps (5-4, 4.01) for the Yankees, but the Orioles have yet to announce theirs.