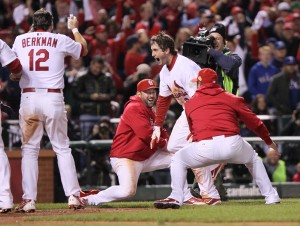 stltoday.com
By Nick Ziegler (@Ziggy26x)
MLB Power Rankings Week 12
1.) St Louis Cardinals (47-29) – The Cardinals had a tough end to the week being swept at home by the Rangers, but they still have the best record in baseball. Their lead in the NL Central however has been trimmed to just one game.
2.) Pittsburgh Pirates (46-30) – The Pirates are coming on strong, as they split a four- game series on the road against the Reds, and then went out to the West Coast and swept the Angels. Pedro Alvarez is is having a great month of June with nine homeruns, and has 19 now on the season.
3.) Texas Rangers (44-32) – Texas after hitting a rough patch the last few weeks seem to be back on track, as they are now on a five-game winning streak, and are back on top of the AL West. Getting Ian Kinsler back in the lineup was much needed, as he hit .407 in the last seven days.
4.) Cincinnati Reds (45-32) – Jay Bruce is having a great month of June for the Reds, as the power hitting lefty has hit 10 homeruns, and is batting .311 in the month. The Reds however are in third place in the NL Central despite having the third best record in baseball.
5.) Boston Red Sox (45-33) – Clay Buchholz was suppose to make his return from the DL this coming Tuesday against the Rockies, but after feeling tightness in the neck he may have to push his return back. Even with their top pitcher out the Red Sox are still in first place in the AL East.
6.) Detroit Tigers (42-32) – Miguel Cabrera continues to show that he is the best hitter in baseball, as he looks to get his second straight Triple Crown, Cabrera is hitting .370 with 20 home runs, and 75 RBIs, which is a major reason the Tigers lead in the AL Central.
7.) Atlanta Braves (44-33) – The Braves played eight games in seven days this past week, and it didn't go very well for them, as they lost both series to the Mets and Brewers. Justin Upton, who got off to such a great start is now hitting just .240 on the season.
8.) Oakland Athletics (44-34) – The Athletics have hit a a rough patch losing seven of the last 10 games, a tough home stand is coming for the A's, as the Reds and Cardinals are coming to Oakland this coming week.
9.) Baltimore Orioles (42-34) – The Orioles are now in second place in the AL East, and if wasn't for running into the red hot Blue Jays over the weekend they probably would be in first place. Their offense is great with Chris Davis having 27 homeruns, and Manny Machado has 106 hits already.
10.) Arizona Diamondbacks (41-34) – Arizona has a major issue in the bullpen, as Closer Heath Bell is really struggling of late, giving up a home run in five straight appearances, and he also has an ERA over five.
11.) New York Yankees (41-34) – The injuries to the Yankees lineup seem to have finally caught up with them, but Zoilo Almonte was called up and gave them a bit of a spark, as hes hitting .583 in five games.
12.) Toronto Blue Jays (38-36) – The Blue Jays are the hottest team in baseball riding a 11 game winning streak, and they will be getting Shortstop Jose Reyes during the week.
13.) Cleveland Indians (38-36) – A two win week from Corey Kluber helped the Indians having a winning week, and Kluber has been on a roll lately winning three straight games, while only allowing four runs in 21.2 innings.
14.) Tampa Bay Rays (39-37) – Recently called up Wil Meyers has had a big impact already for the Rays, as he hit his first home run against C.C. Sabathia on Saturday, which was a Grand Slam, and also has a six-game hitting streak.
15.) Colorado Rockies (39-38) – As expected without Troy Tulowitzki the Rockies had a tough week losing five straight games before winning the final two games in Washington. Without Tulowitzki its going to be hard for the Rockies to stay over .500.
16.) San Francisco Giants (38-37) – Losing three out of four games at home to the Marlins has to be very concerning for the Giants, as besides Madison Bumgarner their starting pitching hasn't been good at all this season.
17.) San Diego Padres (38-38) – The Padres have lost Shortstop Everth Cabrera to a strained hamstring, which is concerning for a great base stealer. With Cabrera out the Padres really need Chase Headley to get going.
18.) Washington Nationals (37-38) – Dan Daren is heading to the DL which may be a good thing for the Nationals, as he has been awful this season with an ERA over six. Bryce Harper is still on the DL however, and his return is still unknown.
19.) Kansas City Royals (35-38) – The Royals offense was nowhere to be found for most of the week averaging just over two runs per game this week besides a seven run outburst on Sunday in a win against the White Sox
20.) Philadelphia Phillies (36-40) – Cole Hamels is now up to 11 losses this season with a ERA of 4.50, but Cliff Lee has been great with nine wins and a 2.53 ERA, which is a big reason that the Phillies are hanging close to .500.
21.) Minnesota Twins (34-38) – Joe Mauer is healthy and looking like the player that earned a monster contract, as he is hitting .330 with eight homeruns. Kyle Gibson will be making his debut on Saturday, which may spark the Twins.
22.) Seattle Mariners (34-43) – 41 year old Raul Ibanez is leading the Mariners in home runs (17) and RBIs (42). The Mariners don't seem to be any sort of threat however in the AL West.
23.) Los Angeles Dodgers (32-42) – Yasiel Puig is still playing out of this world with an impressive showing in the Bronx, as Puig is hitting .425 still. The Dodgers however are still 10 games under .500, which has to be a disappointment.
24.) Los Angeles Angels (33-43) – Blowing a lead to the Pirates on Sunday and getting swept at home seems like the kind of lost that could end the Angels season early, as they are 10 games under .500 with two very good teams ahead of them in the AL West.
25.) New York Mets (30-42) – Pitching wise the future looks extremely bright with Matt Harvey in contention to be an All-Star game Starter, and Zack Wheeler won his debut, and looked nasty in the process.
26.) Milwaukee Brewers (31-43) – Being 12 games under .500 the Brewers will be sellers come around the deadline, and they have a good piece to trade in Yovani Gallardo, who is starting to pitch very well, making his value go up.
27.) Chicago Cubs (31-43) – The Cubs offense had a tough week before a 14 run explosion on Sunday against the Astros. Ryan Sweeney led the way with six RBIs in the 14-6 win.
28.) Chicago White Sox (31-42) – Adam Dunn hit his 20th home run of the season, but like only Dunn can do he is hitting .193 with 89 strikeouts. It seems likely that the White Sox will be trying to move Paul Konerko in the coming weeks.
29.) Houston Astros (29-48) – The Astros seem to have a nice Catcher combination in Jason Castro and Carlos Corporan, who have combined for 15 home runs, but they still rank last in the majors in team ERA.
30.) Miami Marlins (25-50) – A shocking series win in San Francisco makes it nine wins in their last 15 games, but they are still 25 games under .500.