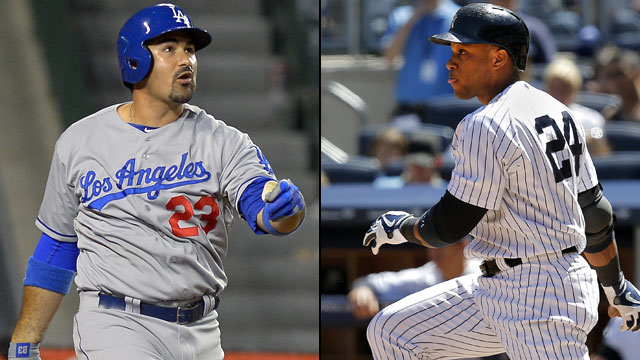 espn.com
By Nick Ziegler (@Ziggy26x)
July 30th, 2013
W2W4: New York Yankees vs Los Angeles Dodgers
The New York Yankees will be on the West Coast starting a eight-game road trip in Los Angles against the NL West leading Dodgers. The Yankees are (55-50) on the season 7.5 games behind the Tampa Bay Rays for first place in the AL East with the trade deadline right around the corner.
Both games in the series have pretty good pitching match-ups, as in Game 1 Andy Pettitte (7-8, 4.39) will be on the hill for the Yankees facing Zack Greinke (8-3, 3.49). In Game 2 both teams will have their aces on the mound in what should definitely be a pitchers duel between Hiroki Kuroda (10-6, 2.51) and NL CY Young frontrunner Clayton Kershaw (10-6, 1.96). For the Yankees they are probably getting the Dodgers best two pitchers, which could lead to their road-trip starting off on a sour note.
Anytime the Dodgers are playing their will be a ton of attention on their young exciting Outfielder Yasiel Puig, who is having a magnificent year thus far. Puig's most recent heroics gave the Dodgers a win against the Cincinnati Reds in extra-innings on Sunday, as Puig his a walk-off solo home run. Puig for the season is hitting .372 in 48 games with 10 home runs, 23 RBIs, and 70 hits. If Puig does have a flaw in his game it has to be the fact that he has struck out 50 times this season, but he will be a focal point of the Yankees attention.
- Don't Forget About Them
Their has obviously been a lot of attention for Puig during the Dodgers recent success, but they have two other players that have been very important and successful in their lineup, in Adrian Gonzalez and Hanley Ramirez. Gonzalez is hitting .299 with 15 home runs and 65 RBIs, which he leads the team in both categories. Ramirez has had some injury problems this year, but when he's been on the field, which he will be against the Yankees, he has been great. Ramirez will be going into the series with a batting average of .380, with 11 home runs and 34 RBIs, as it seems that he has returned to his star form of a few years back.
The offense for the Yankees has been rough to watch at times this season being shut out nine times already, but with the return of Derek Jeter, and trade for Alfonso Soriano the lineup suddenly looks much better. Jeter has only played in two games so far for the Yankees, but they have won both games. Jeter has looked good despite missing so much time, as he's hitting .375 with one home run, three runs scored, and two RBIs. Alfonso Soriano has had an impact also since the trade, which was apparent with his game-winning base-hit against the Rays to help the Yankees avoid the sweep.