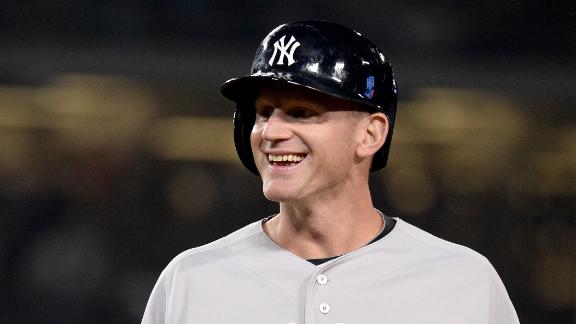 espn.com
By Nick Ziegler (@Ziggy26x)
July 31st, 2013
New York Yankees vs Los Angeles Dodgers Post Game Recap
Final Score: Yankees 3 Dodgers 0
The New York Yankees were able to get the victory on Wednesday night in Los Angeles against the Dodgers with some late-inning heroics, and a big mistake by the Dodgers. The win for the Yankees gives them a split in the two-game series against the red hot Dodgers, and moves them to (56-51), which is eight games behind the Boston Red Sox in the AL East.
Coming in to the game there was a lot of hype for the pitching match-up between Hiroki Kuroda and Clayton Kershaw, and they both brought their "A" games to the table. Yankees Starter Hiroki Kuroda continued his great season, by pitching seven shutout innings allowing just five hits, one walk, and had eight strikeouts. Unfortunately for Kuroda his win/loss record does not indicate that he has a 2.36 ERA on the season, which is second best in the American League behind only Felix Hernandez.
Dodgers Starter Clayton Kershaw also had a magnificent start and may have done just a bit better than Kuroda as he was able to pitch one more inning. Kershaw went eight innings allowing zero runs on five hits to go along with five strikeouts. The National League Cy Young hopeful improves his MLB-Best ERA to 1.87 after the great start.
In the ninth inning the Yankees offense was final able to get some runs, as after Kershaw left the game, Ronald Belisario came in to pitch the ninth, and he would get his sixth loss of the season. After putting runners on first and second with Lyle Overbay coming to bat Belisario was pulled for the lefty Rodriguez, who Overbay was able to get the best of with a two-out RBI base-hit that scored Robinson Cano. The Yankees final two runs of the game would come thanks to Mark Ellis, who dropped a fly ball hit by Jayson Nix, which allowed Ichiro Suzuki and Overbay to score.
Despite getting into some danger in the eighth inning, allowing a walk and base-hit, Boone Logan got his third win of the season thanks to the Yankees scoring in the top of the ninth inning. In the bottom of the ninth inning it was none other than Mariano Rivera, who came out to a pretty loud ovation from Dodgers Stadium. Rivera would promptly put the Dodgers down 1-2-3, with two strikeouts to earn his 34th save of the season.
Next up for the Yankees will be an off day on Thursday before they start a series in San Diego against the Padres, and C.C. Sabathia (9-9, 4.65) will look to turn his poor season around against Andrew Cashner (7-5, 3.88) on Friday night.