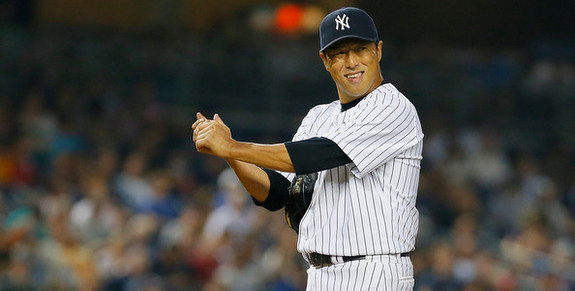 riveraveblues.com
By Nick Ziegler (@Ziggy26x)
August 12th, 2013
Los Angeles Angels vs New York Yankees Post Game Recap
Final Score: Angels 1 Yankees 2
The New York Yankees were able to keep up their momentum from winning a crucial series against the Detroit Tigers, as on Monday night they were able to defeat the Los Angeles Angels to start off their four-game series. The win moves the Yankees to (60-57) on the season, and they are now 6.5 games behind the Rays and Athletics for the two Wild Card spots.
Yankees Starter Hiroki Kuroda was once again sensational in his start, as he picked up his 11th win of the season, and saw his ERA go down to 2.33 on the season. Kuroda went eight shutout innings allowing just three hits and one walk, while striking out seven batters. Kuroda's name should be starting to get some serious consideration for the American League Cy Young award, as in the last five games hes gone 48 innings allowing just five runs, and he now has the second best ERA in the American League behind only Felix Hernandez.
Angels Starter Garrett Richards also pitched a very good game, but with little run support, and an even better start by Kuroda, Richards earned his fifth loss of the season. The Yankees first run off Richards came in the the third inning, as Brett Gardner with two outs hit a single that scored Eduardo Nunez. The second Yankee run would then come from the bat of Curtis Granderson in the seventh inning, as he hit a solo-home run to Right Field, which was his third of the season. Richards would go eight innings allowed just the two runs on seven hits and one walk.
In the ninth inning with Mariano Rivera not available, Joe Girardi went with different way of trying to close out the game for the Yankees, as he brought in Boone Logan first two face the two lefties at the top of the Angels order. J.B. Shuck would however foil that plan a bit with a lead-off single, but Logan did bounce back to strikeout Kole Calhoun before being pulled for David Robertson, and that's when things got interesting for the Yankees. Robertson would walk Mike Trout right out of the bullpen, and then allow the Angels to score on a double by Josh Hamilton, which scored Shuck. A walk to Erick Aybar loaded up the bases with one out for the Angels, but the Robertson pulled off one of his classic Houdini acts by striking out Mark Trumbo and Chris Nelson to end the game, and earn his first save of the season.
Next up for the Yankees, they will be sending C.C. Sabathia (9-10, 4.73) to the mound, as he tries to get his first win in over a month against Jason Vargas (6-4, 3.65)
.