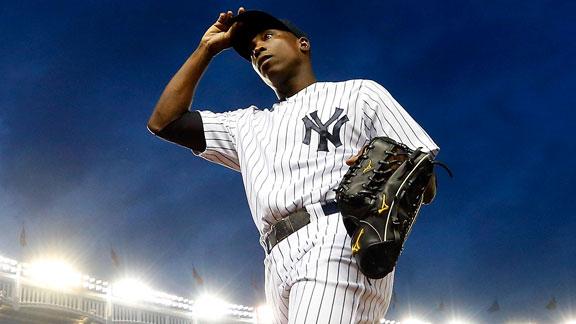 espn.go.com
By Nick Ziegler (@Ziggy26x)
August 14th, 2013
Los Angeles Angels vs New York Yankees Post Game Recap
Final Score: Angels 3 Yankees 11
The New York Yankees were able to pull off their fourth straight win on Wednesday night, which guarantees them a series win against the Angels even if they lose on Thursday. The win moves the Yankees to (62-57) and they are now five games behind the Rays and Athletics for the two Wild Card spots, as they keep inching closer and closer to the teams ahead of them.
The Yankees offense has certainly come alive of late, and that continued against one of the better Pitchers in the MLB in Jered Weaver, who was handed his sixth loss of the season on Wednesday. Alfonso Soriano has been on fire lately, and in the first inning he gave the Yankees a nice lead with a Grand Slam off Weaver for his sixth home run since putting the pinstripes back on. In the second inning the Yankees would tack on four more runs essentially ending the game, as Robinson Cano and Curtis Granderson both had RBI singles, and then none other than Soriano would hit a two-run double, which gave him six RBIs in the first two innings. In the fifth inning Soriano would strike again off Weaver, this time being a solo-home run. Weaver finished the game going five innings allowing nine runs on nine hits, three walks, and he saw his ERA go up to 3.49.
Ivan Nova's success continued, as he must have been pitching quite relaxed with such a big lead en route to picking up his sixth win of the season. The Angels only got to Nova a bit in the middle innings of his start, as in the third inning Mike Trout and Josh Hamilton each had RBI singles. In the fifth inning Trout would get another RBI, which scored Grant Green, and it would be the final run of the game for the Angels. Nova finished going 7.1 innings allowing three runs on 10 hits, while striking out six.
Against the Angels bullpen, the Yankees would be able to get their final two runs in the seventh inning, as Chris Stewart had a RBI single to Left Field which scored Soriano and Granderson. For the Yankees the 25 runs they have scored in the past two games matches their season best for two games going all the way back to April 8-9th against the Cleveland Indians.
On Thursday afternoon the Yankees will be trying for the four-game sweep, but in order for that to happen they will need some better pitching from Phil Hughes (4-11, 4.99) unless the Yankees offense can keep up their ridiculous hitting against C.J. Wilson (12-6, 3.49).