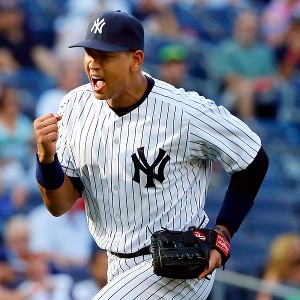 espn.go.com
By Nick Ziegler (@Ziggy26x)
August 22nd, 2013
Toronto Blue Jays vs New York Yankees Post Game Recap
Final Score: Blue Jays 3 Yankees 5
The New York Yankees were able to pick up the win after a three hour rain delay on Thursday afternoon, as they completed the four-game sweep of the Toronto Blue Jays. The win moves the Yankees to (68-59), which is six games behind the Boston Red Sox for the AL East, but now just 3.5 games behind the two Wild Card spots.
Andy Pettitte made his second straight very good start for the Yankees on Thursday, as he picked up his ninth win of the season. Pettitte went six innings allowing just one run on four hits and three walks. The only mistake by Pettitte came in the fifth inning, as Blue Jays Catcher J.P. Arencibia hit a solo-home run, which was his 19th of the year, and was the first run for either team in the game.
Blue Jays Starter J.A. Happ was cruising thru the first four innings, but after that things got rough for him, and he was handed his third loss of the season. In the fifth inning Curtis Granderson matched Arencibia's home run with one of his own, which tied the game, and was Granderson's fourth home run of the season. Later in the fifth inning a Vernon Wells single allowed Eduardo Nunez to score after some confusion to whether or not Rajai Davis made the catch or not. In the sixth inning the Yankees would load of the bases again, and this time Yankees were able to capitalize more thanks to a Nunez two-run single, which scored Alex Rodriguez and Granderson. Chris Stewart would knock in Mark Reynolds after that with a RBI ground out.
Shawn Kelley, who has emerged as the Joe Girardi's seventh inning man ran into some trouble in that inning, as he allowed two runs on three hits, and one walk. After Kelley got Edwin Encarnacion to ground into a RBI fielder's choice, Girardi would bring in Boone Logan who struckout Adam Lind to end the threat.
With Mariano Rivera unavailable for Thursday's game due to pitching a lot of late, David Robertson got the opportunity to close this game out, and next season's Closer for the Yankees did just that. A perfect ninth inning for Robertson earned him his second save of the season, and finished off the sweep of the Blue Jays.
Next up for the Yankees will be a big series against the Tampa Bay Rays in Tampa Bay, as the Yankees will be sending their ace Hiroki Kuroda (11-8, 2.41) to the mound to face Chris Archer (6-5, 2.95).