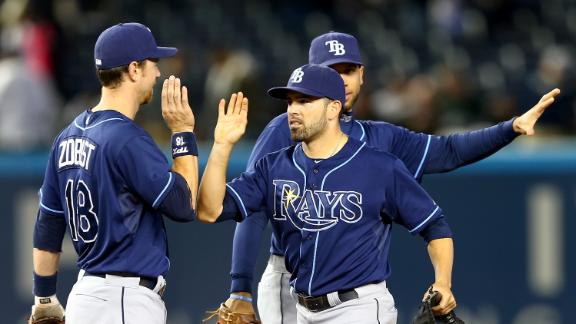 scores.espn.go.com
By Nick Ziegler (@Ziggy26x)
September 24th, 2013
Tampa Bay Rays vs New York Yankees Post Game Recap
Final Score: Rays 7 Yankees 0
The New York Yankees playoffs hopes took yet another blow, as their loss on Monday to the Tampa Bay Rays basically ended their chances of making the playoffs unless something crazy happens. The loss moves them to (82-75), which is five games behind the Cleveland Indians for the final playoff spot.
Hiroki Kuroda's last two months of the season has been a tough one, and on Tuesday night it was another bad start for Kuroda, as he picked up his 13th loss of the season. The first inning was a tough one for Kuroda, as lead-off hitter Matt Joyce hit a solo-home run to get the Rays on the board. Later in the inning the Rays would tack on two more runs on a David DeJesus double that score Wil Myers, and then Evan Longoria hit a sac-fly to score DeJesus to make it a three-run first inning. In the sixth inning the Rays would get their final two runs off of Kuroda, as with the bases loaded James Loney hit a double to score Myers and Longoria to make it a 5-0 game. Kuroda finished going 5.2 innings allowing five runs on five hits and two walks.
Rays Starter Matt Moore was a little wild, but was able to earn his 16th win of the season on Tuesday. Moore went five innings allowing three hits and six walks, but kept the Yankees from scoring any runs. Against Moore the Yankees were zero for eight with runners in scoring position, and for the game were zero for 10.
In the bullpen it was Shawn Kelley who gave up the final two Rays runs in the ninth inning, as doubles by Delmon Young and DeJesus knocked in the final two Rays runs, which made it a 7-0 game.
For the Rays Reliever Jake Odorizzi went the final three innings to earn the save in the rare way, which was his first save of the season. Odorizzi was impressive in the final three innings, not allowing a run, and just allowing one hit and a walk.
On Wednesday the Yankees season will be on its last legs with Phil Hughes (4-13, 5.07) on the mound with a short leash facing off against David Price (8-8, 3.43).