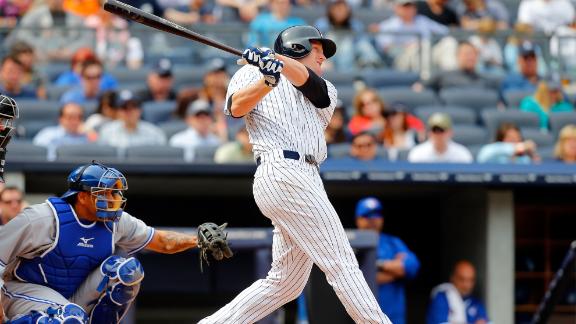 espn.com
By Nick Ziegler (@Ziggy26x)
April 28th, 2013
Toronto Blue Jays vs. New York Yankees Post Game Recap
Final Score: Blue Jays 2 Yankees 3
The New York Yankees were able to complete the four game sweep on the Toronto Blue Jays on Sunday afternoon, and with the win the Yankees are now (15-9) on the season, as their surprisingly good start to the year continues.
Yankees Starter Phil Hughes had his third consecutive strong start for the Yankees, but didn't factor in the decision. Hughes went six innings allowing two runs on seven hits, and one walk. Hughes had the strikeout pitches working, as he fanned nine batters on Sunday. This was Hughes third start in a row that he allowed two runs, as his early season woes seem far behind him now.
The Yankees bullpen was great in this one, as Boone Logan, David Robertson, and Mariano Rivera finished off the final three innings. Logan earned his first win of the season, by pitching a scoreless seventh inning. Robertson was solid in the eighth inning leading to Rivera earning his eighth save of the season, which is the most saves he's ever had in April.
The Yankees got on the board first in this one in the second inning, as Brennan Boesch hit a solo-homerun off R.A Dickey. For Boesch it was his second homerun of the season, and finished the day going one for three.
Lyle Overbay had the big hit for the Yankees in the seventh inning, as Overbay hit a two-run homerun, which gave the Yankees a one run lead. The homerun was Overbay's third of the season, and now has 11 RBIs on the season.
After returning to the lineup on Saturday Kevin Youkilis didn't play on Sunday due to a stiff lower back, and will be scheduled for a MRI on Monday. "He is an important guy to our lineup because he kind of surrounds some of the left-handed hitters and he is a production guy and he is a home run guy," Girardi said. "He is important, so we have to get this right. We can't push it too fast. If there are days that he is a little stiff, we may have to back off a little bit and try again the next day."
The Yankees will be home still on Monday, as the Houston Astros come to town, and Andy Pettitte (3-1, 2.22) will be facing Lucas Harrell (2-2, 4.08).