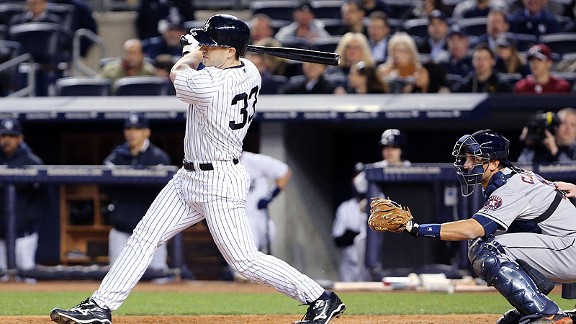 espn.com
By Nick Ziegler (@Ziggy26x)
April 30th, 2013
Houston Astros vs. New York Yankees Post Game Recap
Final Score: Astros 4 Yankees 7
The New York Yankees were able to bounce back on Tuesday night after an embarrassing loss to one of the worst teams in the majors on Monday night in the Astros. The win now puts the Yankees record at (16-10) for a very successful month of April.
Yankees Starter Hiroki Kuroda was able to finish up a very successful month of April with his fourth win of the season, despite looking very shaky in the first three innings of the game. The Astros had three hits and walked four times in the first three innings, while having a runner reach third base in each inning, but Kuroda was able to wiggle out of trouble, and once the fourth inning hit it was smooth sailing for Kuroda. He finished going seven shutout innings allowing four hits, four walks, and struck out eight batters in the win.
The middle relievers for the Yankees struggled in this game however, as David Robertson and Shawn Kelley both did not pitch well. Robertson pitched the eighth inning, but allowed two runs on a Chris Carter homerun to right field. A big inning for the Yankees offensively in the bottom half of the eighth no longer made it a save situation so Joe Girardi went with Shawn Kelley, who promptly made it a save situation by giving up three hits and two runs. Girardi then pulled Kelley for Mariano Rivera, who then got the final out of the game to earn his 10th save of the season.
On offense the Yankees were much better on Tuesday compared to Monday, and a lot of that had to do with the great game from Travis Hafner. Pronk had a great game going three for four at the plate with three RBIs, and a walk. The three RBIs for Hafner give him 17 RBIs for the month of April.
Two Yankees who struggled hitting for most of the month of April finished the month on a very good note. Ichiro Suzuki went three for five with two runs scored, as he saw his average rise to .268 to finish April. Eduardo Nunez, whose been banged up in April finished a month he'd like to forget by going three for four with a run scored, and gets his average over .200 heading into May.
Some bad news before the game for the Yankees is that yet another player will be heading to the disabled list, and that player is Kevin Youkilis. Youkilis was placed on the DL due to a lumbar spine sprain, and with another player heading to the DL how long can the Yankees keep up their winning ways?
The rubber game of the series will see the pitching match-up of David Phelps (1-1, 5.29) against Erik Bedard (0-2, 7.89).