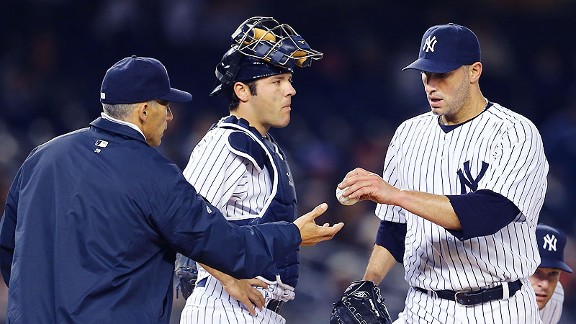 espn.com
By Nick Ziegler (@Ziggy26x)
April 29th, 2013
Houston Astros vs. New York Yankees Post Game Recap
Final Score: Astros 9 Yankees 1
The New York Yankees coming off a four game sweep against the Toronto Blue Jays may have over looked the Astros on Monday night, and paid dearly. The Astros beat up the Yankees pretty good in the Bronx, and with the loss the Yankees four game winning streak was snapped.
Yankees Starter Andy Pettitte got roughed up in this game, as he suffered his second straight loss, and is now (3-2) on the season with a 3.86 ERA. Pettitte lasted just 4.1 innings allowing seven runs on 10 hits with one walk. Pettitte just didn't have it in this start, as it was the most runs he's allowed in a game since 2008.
The Yankees did get a good first appearance from Vidal Nuno making his MLB debut in mop up duty. Nuno went the final three innings for the Yankees, and didn't allow a run, with only four hits against him. For Nuno it was a pretty impressive debut in pinstripes.
Offensively for the Yankees it was the top three hitters in the order, and then nothing much after that. Brett Gardner was the only Yankee to touch home plate in the sixth inning, as Gardner finished the game going two for four with the one run scored. Robinson Cano batting in the two hole also went two for four keeping up his stellar start of hitting this season. Vernon Wells was the third Yankee with a multi-hit game, and knocked in Gardner with the only Yankees RBI, as Wells finished the game going two for three with a walk.
Catching Prospect Austin Romine made his MLB debut in this game as well filling in for the injured Francisco Cervelli, but unlike Nuno, Romine's debut didn't go to well. Romine went zero for three at the plate with a strikeout, and got hit by a pitch on the hip in the seventh inning.
Houston's Catcher was a Yankee killer in this one, and a real difference maker at the plate. Carlos Corporan went four for four at the plate with his first double and first homerun of the season. Corporan finished the game with four RBIs, which is a career-high.
The Yankees will be back at it on Tuesday against the Astros, as Hiroki Kuroda (3-1, 2.79) will be facing Phil Humber (0-5, 7.99) in a game the Yankees should definitely win.