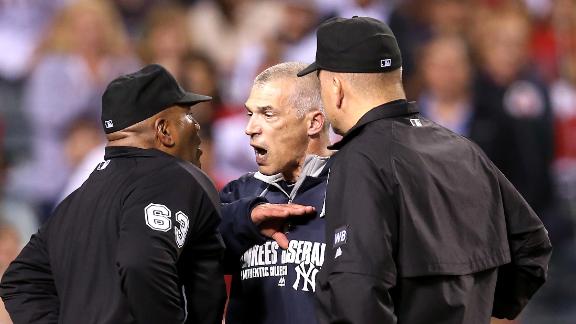 espn.go.com
By Nick Ziegler (@Ziggy26x)
May 5th, 2014
New York Yankees vs Los Angeles Angels
Final Score: Yankees 1 Angels 4
The New York Yankees had the tough task of traveling to the West Coast without getting an off-day, as on Monday the Yankees offense and bullpen looked like they forgot to make the trip to Los Angeles. The loss to the Angels moves the Yankees to percentage points behind the Baltimore Orioles in the AL East with a (16-15) record.
Getting his first start of the season, David Phelps was very good for the Yankees, even though he didn't factor in the decision. Phelps went 5.1 innings allowing just one run on three hits and one walk, while throwing 87 pitches. The only problem Phelps had was in the fifth inning, as Ian Stewart was have an RBI ground-out.
Angels Starter Jered Weaver was fantastic against the Yankees, as he shutdown their offense and deserving picked up his third win of the season. Weaver went eight innings allowing just one run one six hits, one walk, and struck out seven batters.
On offense for the Yankees it was mostly a quiet night, but Mark Teixeira was able to knock in the Yankees only run in the seventh inning with a RBI single that scored Derek Jeter who had a multi-hit game that included his fourth double of the season.
In the eighth inning disaster hit for the Yankees bullpen, as they walked the park leading to the loss. Shawn Kelley picked up his second loss of the season, as he walked four batters before Matt Thornton, who walked another batter came in, and then Preston Claiborne walked one more before getting the final out of the inning. In total their were six walks in the inning, five of which came with two outs in the inning.
The awful display in the inning led to Kelley and Joe Girardi both being ejected for arguing balls and strikes, and like usually the Angels had the Yankees number.
Next up the Yankees will try to bounce back from their tough loss, as Hiroki Kuroda (2-3, 5.14) will be facing C.J. Wilson (4-2, 3.18) on Tuesday night.