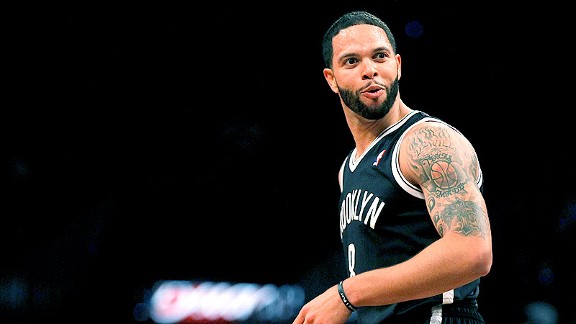 espn.com
By Nick Ziegler (@Ziggy26x)
April 20th, 2013
Game One Chicago Bulls vs. Brooklyn Nets Post Game Recap
Final Score: Bulls 89 Nets 106
The Brooklyn Nets were able to take game one of the series with the Bulls in convincing fashion at the Barclays Center. Brooklyn fans came out for the "Brooklyn Blackout", and gave the building a good playoff atmosphere in the win. Next game for Brooklyn will be on Monday night, and Joakim Noah who suited up for the Bulls on Saturday night but only played 13 minutes is expected to play in Game Two.
Positives:
- As its been for most of the second half of the season the Nets were led by Point Guard Deron Williams in the Game One win. Williams finished with a team-high 22 points on nine for 15 shooting, which included going two for three from behind the three-point line. Williams also added seven assists, and three steals to round up what was a very good first Playoff game on the Nets.
- Nets All-Star Center Brook Lopez was excited to play his first ever Playoff game, and he didn't let his nerves get the best of him in his Playoff debut. Lopez was right behind Williams in scoring with 21 points on seven for 15 shooting, but was lights out at the free throw line going seven for seven. Due to Noah for the Bulls not playing close to 100% the Nets made it a priority to go to Lopez early, as he scored 19 of his 21 points in the first half. If Noah isn't healthy Lopez should be able to have a great first series of his Playoff career.
- The final member of Brooklyn's Big 3 also played a good game, as it is quite clear that when Lopez, Williams, and Joe Johnson all play well Brooklyn is going to be a very tough team to beat. Johnson finished with 16 points on seven for 13 shooting to go along with four rebounds, and four assists.
- In what was probably the most shocking thing about this game had to be that Nets Small Forward Gerald Wallace actually played a good game for the first time in a long time. Wallace out of nowhere scored 14 points on five for seven shooting, with his only two misses coming from three-point land. He also was able to grab six rebounds, and put the clamps on All-Star Forward Luol Deng, who scored just six points on three for 11 shooting.
- P.J. Carlesimo has seemed to set his Playoff rotation at 10 men, but in the win on Saturday he got good play from his two best bench players most of the season in C.J. Watson and Andray Blatche. Watson scored 14 points on six of eight shooting, and Blatche scored 12 on six for 11 shooting. Blatche and Watson look to be a good combo for the Nets scoring wise off the bench for the Playoffs.
Negatives:
- Overall the Nets played a great game, but they did have problems again stopping Bulls Power Forward Carlos Boozer, who seems to play his best games against Brooklyn. Boozer finished with a game-high 25 points on 12 for 20 shooting to go along with his eight rebounds, and four assists. Boozer didn't have a lot of help in the scoring department from the rest of his Starting Lineup, but Nate Robinson did provide a scoring boost off the bench. Robinson scored the most points off the bench of any player with 17 on an impressive eight for 12 shooting. Guarding Boozer and Robinson should probably be addressed heading into Game Two.